Welcome to Cove Lane Pottery!
Handmade functional ceramics that are built, glazed and fired on Cape Cod, MA. Search from existing inventory or send us an inquiry for a custom product!
Located at
1 Scraggy Neck Road Extension
Cataumet, MA 02534
Shop hours :
Wednesday, Thursday and Friday 11:00-5:00 ***
Saturday 10:00- 2:00
Sunday closed
Also by chance or appointment.

I am often working during the week during "off" hours.
Please feel free to stop in if you see me there.
***I will be closed at my shop on Saturday 11/4, 11/16, 12/2, and 12/7 while at other events.
***Also closed Nov. 22,23 and 24 for Thanksgiving and to get ready for the Holiday Artisans Market
Upcoming Events 2023
Mashpee Women's club Luncheon, 11/16
Plymouth Harvest Market 11:00-4:00, November 19
Holiday Artisans Market, Saturday 11/25 and Sunday 11/26, right here at Cove Lane Pottery!
Robin Pierson's Holiday Open House, December 2, 78 Scraggy Neck Road,Cataumet
Cohasset Garden Club Yuletide Marketplace 10:00-4:00, December 7, Willcutt Commons, 91 Sohier Street,Cohasset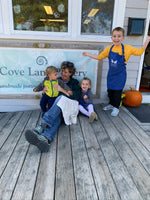 Come join us! Wonderful artists and gifts🎄